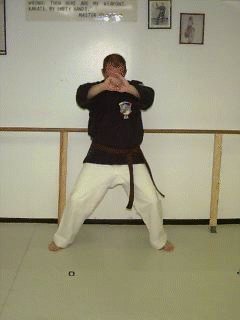 Welcome to PCWOOD's Kenpo Thesis
---
"He who hesitates, meditates in a horizontal position."
Ed Parker
---
About this Thesis

The pages you browse here are my kenpo black belt thesis. On June 22, 1996 I was honored with the rank of 1st degree black belt. My web is however, in no way finished. Like the art, I expect the web to grow and change but the core will remain the same.

I did not write the technique manuals myself. They may vary as they are taught. Dont take them as the gospel but rather use them as a guide. Remember, nothing can replace personal instruction by a qualified instructor.
---
About ...

... giving thanks to my instuctors and training partners.
---
About ...

... my belt testing history
Also view the kick that made it official.
---
About ...

... the growing number of Kenpo Organizations. If you know of any please drop me a message and I'll make it available.
---
About my patch collection

I am building a collection of kenpo patches from different organizations and schools. If you would like to offer me a trade I often have spares of the popular ones.
---
[Forms] [Techniques] [Books/Video] [MA Web] [Dojo Directory] [Events] [About]
---
kenpo@pcwood.com